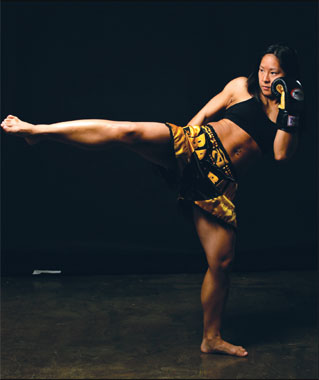 I was not into sports. Well, when I was younger I used to play tumbang preso, habulan, taguan, langit lupa, siato etc almost every afternoon. But real sports? Nah! Today, I'm into Muay Thai – a martial art developed in Thailand in which blows may be struck with the fists, elbows, knees, and shins (source:
thefreedictionary.com
). It's a vigorous workout usually dominated by men. :D
I started two weeks ago. I promised to my coach that I would come back Tuesday the following week. But I didn't show up. Because I suffered from massive muscle pain. I couldn't even walk the normal way. So I started having doubts. Nonetheless I wouldn't want to put my money into waste because I have already availed their promo package which is equivalent to 8 sessions (No refund). The recommended sessions are 2 to 3 times a week. In my case, I came back one week after my first session (Wink).
It was fun actually. However, I must admit I didn't anticipate the horrors of Muay Thai. In my mind, I just wanted to lose weight and eventually become slender (I am not plump but I would be happier to have my old clothes fit me again). Next was to learn basic self-defense. But as the famous saying goes "Success doesn't happen overnight."
Yesterday, I had my third training. It was still arduous but at the moment my body is still in normal shape and condition. I have learned that the major key to counteract muscle pain is not to lie in bed and rest. Alaxan is not even necessary. Stretching is. Stand up and exercise. I will come back on Thursday for my 4th session. Need to work harder on my kick and balance. So if there is anyone who wants to try Muay Thai, I would love to have a sparring partner. :)